Client in the healthcare industry
Blohm Consulting successfully implements and automates the warehouse processes and supports the customer in advance development and support after project completion
The task
A customer in the healthcare industry operates an international distribution center with very extensive conveyor technique.
Blohm Consulting undertook the tasks of design, realization and implementation of all warehouse processes. Blohm Consulting also assumed the responsibility of continuous maintenance and further development of the system.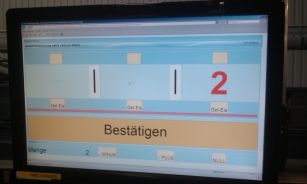 Characteristics of the processes:
4 different temperature zones
4 miniloads, carton conveyor technique
2 pallet warehouses, pallet conveyor technique
Automated frozen storage
Whole-carton picking
Shipping automation
System features
Decentralized SAP WMS connected to SAP ERP system
Goods receipt with palletizing and repacking in cartons
Putaway
Management of different temperature requirements
Dangerous goods handling
Case calculation considering temperature, shipping method, season, dangerous goods, etc
Batch creation for 5 different picking methods
Goods-to-man picking
Whole-carton picking
Picking of pallets (conveyor technique)
Whole pallet picking
Automated packing workstations
Shipping sorter control
Shipping and transportation planning
Loading
System architecture
The warehouse control is mainly automated. The control station monitors the system and covers only exceptions.
Case Calculation calculates the shipping cartons.
Batch creation generates optimized batches so that the dates of dispatch are observed on the one hand and the conveyor technique is optimized on the other hand by minimizing the number of retrieval outputs in each picking process.
WMS orders the MFR component in SAP with the movement commands along the process chain. Only the WMS manages the stock and processes.
MFR communicates with the conveyor technique.
The picking happens at SAP touch screen monitors with graphic display – without key board. The automatically connected packing sites furnish the packages with special labels and documents. On the automated shipping route the cartons are tagged (shipping labels) and sorted in shipping channels. In dispatch transports are created, palletized and loaded system-controlled.